Healthcare Technology Landscape in 2020 and Beyond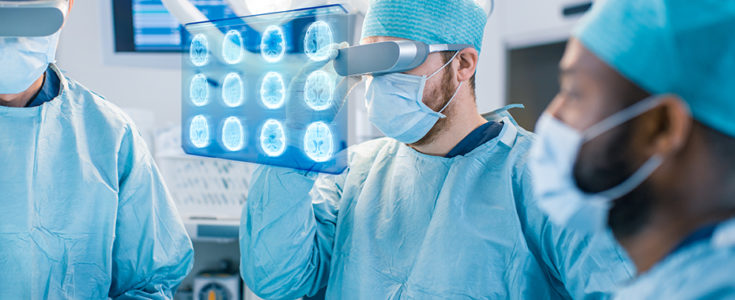 To say that the past few years have been an interesting time in the world of healthcare would be a gross understatement. Healthcare firms around the globe are showcasing innovative new technologies such as artificial intelligence, blockchain, voice search, virtual reality and more, providing endless new opportunities to improve patient care.
From new devices, procedures and medicines, right through to brand new operational systems, technology is helping to reduce the cost of healthcare while simultaneously making it better. In this article we'll take a look at some of the roles key technologies are playing in this constantly evolving field.
Artificial Intelligence in Healthcare
The use of AI in healthcare isn't particularly novel, but thanks to huge strides in the development of the technology it's beginning to play a much larger role. Artificial intelligence has many applications, but by far the most critical in 2020 and beyond is its help in reducing and mitigating the risk of preventable diseases.
A straightforward example of this might be setting up automated reminders to prompt patients to take medications at specific times. However, thanks to recent developments, AI can also help deliver personalized dosage recommendations based on a person's unique body chemistry and their associated environmental factors. Not only does this prioritize patient safety and ensure medicine is being used optimally, it also limits the workload typically placed on doctors (and the responsibility that often weighs on patients).
AI can also help to identify those that are at high risk of contracting a particular disease or developing a specific illness. This can help to allocate resources and predict any necessary medical intervention, and even trigger medical alerts or create customized care plans. IBM Watson is currently testing this application of AI on patients dealing with opioid addiction.
Artificial Intelligence to Prevent Fraud
Unfortunately, the healthcare system is a regular target for fraudsters. In 2018, the federal government recovered almost $2.9 billion in civil settlements and judgments under the FCA (False Claims Act). More than 500 out of 767 new FCA cases filed in 2018 were in the healthcare space. Thankfully, this number may be about to decline as AI tools are used more heavily in the prevention and detection of fraud. These innovations are already well underway in 2020, as massive amounts of data are being analyzed to help flag a likely fraud case before any damage can be done. In cases where fraud has already been committed, AI can help to quickly and effectively build a body of evidence based on historical data for fraud examiners and law enforcement.
Blockchain
For a few years running now, Blockchain could easily have been crowned "word of the year".  It's easily one of the most talked about technologies in the financial and transportation sectors, and now the healthcare sector is experimenting with it too.
The healthcare industry is already using Blockchain to do everything from securely encrypting patient data to managing the outbreak of harmful diseases such as COVID-19. In the coming months and years, the industry will experiment with Blockchain even further, such as using it to secure medical records so that they can't be edited once they've been signed and submitted. Blockchain's application in consent management will also help in the recording of patient consent, meaning any party seeking to exchange medical data about an individual could simply check the Blockchain for permission.
Voice Search
Thanks to the likes of Alexa and Google Home, voice search has become normalized in businesses and households far and wide. Just about every web-connected device now has some kind of voice search feature, and digital businesses are taking full advantage. Healthcare is no different in that regard, as marketers in the field use the new technology to rank for local search terms in what is basically SEO (Search Engine Optimization) 2.0. Beyond marketing, healthcare providers can also use the technology to provide first aid instructions over voice, and help patients themselves get more information about their condition before they visit their doctor.
Chatbots
These days, chatbots have made an appearance in just about every industry you can think of. We've all logged onto a website, either on our desktop or smartphone, and seen the helpful chatbot appear. It may offer to guide you through a sale, provide a quote or simply answer any questions you have from its database of pre-programmed responses. Healthcare is also taking advantage of chatbots, using them to pre-screen patients and canvass information ahead of a consultation. This enables doctors to be more prepared and also drastically cuts down on the length of time a typical consultation may take.
Virtual Reality (VR)
Some might say that VR hasn't lived up to the lofty expectations we had of it a few years ago, but it's still an invaluable tool in the healthcare industry. From surgical preparation and therapy to educating patients on their illnesses, VR continues to be an indispensable asset to medical professionals around the world. It can also help the physical rehabilitation of patients who have suffered physical trauma and balancing issues.
Internet of Things (IoT)
Often abbreviated simply as "IoT", the Internet of Things has changed the way we interact with technology in profound ways. It essentially refers to so-called "smart" devices and the way they're constantly connected and able to share data. While its use is widespread in healthcare already, 2020 is likely to mark a turning point for its application in drug management.
Doctors can use IoT to control medicine intake, monitoring each dose and tracking its effect on the patient. It can also be used to ping reminders to patients when another dose is due, and even notify family members if patients forget to take their medicine.
This is also a good time to bring up the concept of "telemedicine". Thanks to IoT, healthcare professionals can now consult and diagnose patients remotely, dramatically reducing costs and the need for real-time assistance where it may not necessarily be required. To learn more about how Infostretch can put digital to work for your business in 2020, simply fill in the form below.